5 Reasons to choose TUFF
Why Silicone?
No Nonsense Warranty
Unmatched Durability: Made from military-grade silicone, Tuff Rings won't rip or lose shape, ensuring long-lasting performance.
Breathable Comfort: Sweat-wicking technology and ventilated air holes keep your fingers cool and dry while working out or working on the truck. Whatever the activity we have you covered. 
Lifetime Warranty: Tuff Ring's confidence in its product is backed by a lifetime No BS  warranty, giving you peace of mind knowing your investment is protected.
Safe & OSHA Approved:Tuff Ring is OSHA approved, meaning it's designed with safety as a top priority, reducing the risk of accidents or finger injuries during work
Over 2 Million Rings Sold: With over 2 million rings sold, Tuff Ring has proven its popularity and trust among customers, making it a reliable choice for your wedding band.
Traditional rings can disrupt the moment
You want to workout, fix your truck, work, drink a beer, cook, shower, hold your children without pausing life to take off the very symbol that represents the life you live. Add to that the real risk of ring avulsion, degloving and amputation, and we set out to create silicone rings to protect the special moments in life and your fingers.
Silicone belongs on fingers
When Genghis Khan (ruler of the Mongolian Empire) created the first circular representation of a promise, he used braided hemp. It was a symbol of love and commitment to his wife and the practicality of running his empire. We made TUFF to bring back comfort, safety and focus on a unique way to express ourselves and our commitment.
We at TUFF are proud to bring you some of the toughest, most durable rings in the industry.

However, we introduced our NO NONSENSE warranty to ensure that you're covered, no matter what!
Yup, you heard that right. Break it, loose it or the ring no longer fits. We don't care – we are here to blow your mind and make you happy!
Add to cart
A Tuff Flag Hat is made from original Flexfit® Tech + adjustable back combo for a perfected fit! The cap exudes premium status with a wool-blend fabric that offers style and class. Experience the cap that truly responds to you.
83% Acrylic / 15% Wool / 2% Spandex
Meet other tuff guys
Dan S.
Hands down the best ring on the market! Ive tried a few different silicone style rings but nothing compares, truly a solid product
Kole P.
I love the holes on the side of the ring so that my fingers can breath. Doesn't get sweaty underneath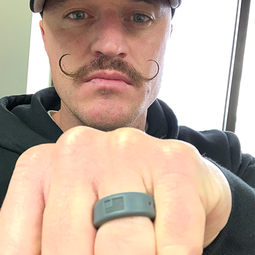 Van O.
Only kind of ring that I'm allowed to wear in the shop. Happy wife, happy life lol
Brad Q.
Absolutely love this ring! I love that it has discrete holes to allow the ring to breath.
Aaron B.
5 stars! Great ring. Not thin and flimsy like other rubber rings. Defiantly a more quality feel to it.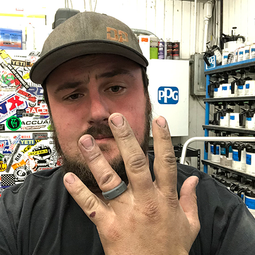 Damon H.
I've tried a bunch of rings and this is by far my favorite! I love my Tuff ring.
Customer Reviews
Write a Review
Ask a Question
01/24/2022
Chrissy

United States
WIDE BAND
I love wide band rings. My ring size is a 6 so I almost never find a wide band. I don't want no skinny band. These ring are comfortable and I don't have to worry about getting hurt when doing actives that a traditional rings would get caught up on.